2015 Winter test Corsa helmet
$ 859.99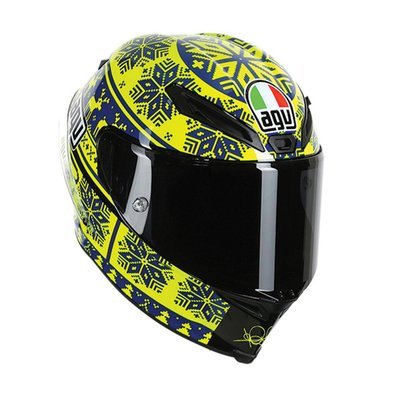 The Corsa has the performance of the Pista GP and the characteristics of a helmet for road use. The carbon-fibre/glass-fibre/aramid SSL (Super Super Light) shell was designed using FEM techniques (Finite Elements Analysis) and features EPS internal ducts in the shell to provide a small, light helmet which is both comfortable and extremely safe. The result is a helmet that is significantly superior than the limits set by ECE standards and that weighs just 1350 g (refers to MS size ECE 2205 version). Unlike the Pista GP, the Corsa comes with a system for opening and closing the air vents which makes it a less extreme, more versatile helmet. The entire ventilation system was designed using computational fluid dynamic modelling and wind tunnel tests. This helmet is highly efficient at removing heat and moisture from the rider's head. Thanks to its large rear spoiler, the Corsa boasts first class performance in terms of aerodynamic penetration and high speed stability. Overall, the visor aperture is 9% bigger meaning a 15° improvement in vision which obviously enhances the active safety factor. The fit of the Corsa was developed using \"Human Engineering\" whereby the design starts from the surfaces in contact with the wearer's head. The inside of the helmet starts with a concave 3D structure that is pre-shaped to match the contours of the rider's head and any surfaces in contact with the head are stitch-free. The Lycra and Shalimar sanitized internal components are fully adjustable due to the fact that the position and depth of the crown pad can be modified as can the thickness of the cheek pads. The combination of these solutions, which are covered by three separate patents, make the Corsa fit the different cranial shapes as never before.

Composition: 100% CAAF


Also found in: motorcyclists agv helmets man replica helmet VR46 classic helmet agv
The delivery of the products purchased takes place on average within 5 working days from the order reception for Italy and EU, and within 8 days for all other destinations.
Shipping costs and any customs duties for non-EU deliveries not included.
Product code: AGM1H197003