Limited Edition autographed Airbrake MX Valentino Rossi Signature Series Goggles
$ 279.90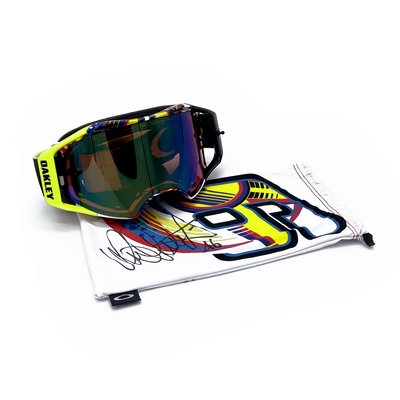 Airbrake MX Valentino Rossi signature series googles in Limited Edition and autographed bag. With high impact resistance that makes you invincible, this technological achievement is the first MX model with a pure Plutonite lens. It's the new benchmark in terms of protection, and allows you to embrace the adapted approach and excel with Oakley's Switchlock technology, the secret to changing lenses quickly and easily. Vision is wide and open, comfort is unmatched, and performance leaves all other goggles fighting for second place.

Composition: 60% PE, 40% PC


Also found in: motorcyclists sunglasses VR46 classic man
The delivery of the products purchased takes place on average within 5 working days from the order reception for Italy and EU, and within 8 days for all other destinations.
Shipping costs and any customs duties for non-EU deliveries not included.
Product code: OAUMX228704